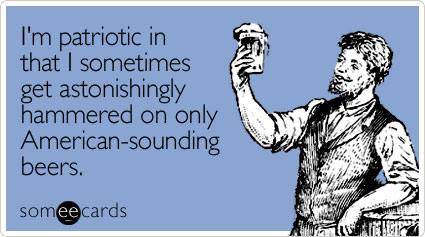 I don't really have big plans this 4th. Just hanging out with my bestie, Anna and maybe floating the river if we can get out of bed at a reasonable hour. Blistering in the sun with your closest friends, with your ass in a float and an ice cold domestic beer is in your hand is really the AMERICAN WAY!
No but on a serious note, we should really sit and think about how grateful we should be to live in a such a great country. America really is the land of the free. We can sit and criticize Obama's new health care plan or how many trillions of dollars of debt we're in or how many liberals there are lurking the streets of Austin, but ultimately we live in a damn great country. We have access to literally anything we could ever want, we can speak our minds, practice whatever religion we want without getting in (legal) trouble for it, access whatever Internet site we need/want, etc.
I don't need to go further. Things could always, always, always, be a lot worse. We could work our butts off for minimum wage. We could live in poverty because there aren't jobs available for us. We could have no access to health care. We might have to give up our newborn child because there are too many in our country. We could have no access to something as miniscule (to us at least) as CLEAN WATER. So next time you're complaining about Obama's next scheme, think about how much worse it could be.
On that note, happy 4th everyone! Have fun and BE SAFE! Make a virtual promise to me that you won't drink and drive!